OvernightES
Overnight ES
Track record as of June 30 2021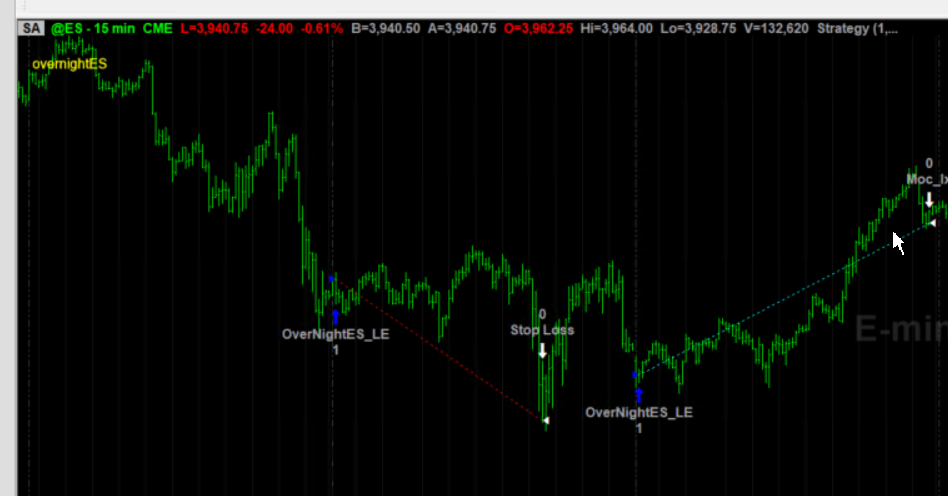 Profit $7612.50 less brokerage
Built 2020 Sep 23 by Peter Zwag. This is a non-GSB system. Built by a human, not a computer.
System logic
System trades after hours on entry and exits trades at close of the day session.
The system will enter an over-sold market.
No trades are held over Friday night, but entries can occur Sunday evening.
Only long trades are taken.
This means a stop that can be converted to a market order is active at all times, with the rare exception of ½ trading days.
Stop loss is $1850 per Emini contract or $185 per micro contract
Stop size adjustment is auto detect for Emini / micro contracts
Time zone should be auto detected.
There are 4 work spaces included
Top left 1. contract on micro S&P500
Top right. 1 contract on Emini S&P 500
Bottom left. 2 contracts on micro S&p500 and 1 extra contract on high confidence trades.
Bottom right. 1 contract on Emini S&P, and extra contract on high confidence trades.
System report is here
To purchase, fill in the NDA here & email it back. Not needed if this NDA has been filled in before.
DISCLAIMER
HYPOTHETICAL PERFORMANCE RESULTS HAVE MANY INHERENT LIMITATIONS, SOME OF WHICH ARE DESCRIBED BELOW. NO REPRESENTATION IS BEING MADE THAT ANY ACCOUNT WILL OR IS LIKELY TO ACHIEVE PROFITS OR LOSSES SIMILAR TO THOSE SHOWN. IN FACT, THERE ARE FREQUENTLY SHARP DIFFERENCES BETWEEN HYPOTHETICAL PERFORMANCE RESULTS AND THE ACTUAL RESULTS SUBSEQUENTLY ACHIEVED BY ANY PARTICULAR TRADING PROGRAM.
ONE OF THE LIMITATIONS OF HYPOTHETICAL PERFORMANCE RESULTS IS THAT THEY ARE GENERALLY PREPARED WITH THE BENEFIT OF HINDSIGHT. IN ADDITION, HYPOTHETICAL TRADING DOES NOT INVOLVE FINANCIAL RISK, AND NO HYPOTHETICAL TRADING RECORD CAN COMPLETELY ACCOUNT FOR THE IMPACT OF FINANCIAL RISK IN ACTUAL TRADING. FOR EXAMPLE, THE ABILITY TO WITHSTAND LOSSES OR TO ADHERE TO A PARTICULAR TRADING PROGRAM IN SPITE OF TRADING LOSSES ARE MATERIAL POINTS WHICH CAN ALSO ADVERSELY AFFECT ACTUAL TRADING RESULTS. THERE ARE NUMEROUS OTHER FACTORS RELATED TO THE MARKETS IN GENERAL OR TO THE IMPLEMENTATION OF ANY SPECIFIC TRADING PROGRAM WHICH CANNOT BE FULLY ACCOUNTED FOR IN THE PREPARATION OF HYPOTHETICAL PERFORMANCE RESULTS AND ALL OF WHICH CAN ADVERSELY AFFECT ACTUAL TRADING RESULTS.