GSBsysFLT3v1&2NQ
This is a day trading Nasdaq Futures system that can trade the Emini or Emicro Nasdaq.
Max of 4 contracts (Emini or micro) allowed per purchaser to protect liquidity.
Stop size is $2000 for Emini, / $200 for Micro.
It's recommend to trade both v1 and v2 system, or v1 and v2 pyramid version. max 4 contracts in total
July 4 2022 update. Removal of one of the exit modes, and safety limit of 3 trades added.
Version 2 of the system. Has pattern filters, and manual re-optimize of the code. Out of sample Jan 17 2022
Report updated August 31 2023
Version 1. Out of sample Feb 28 2021
Report updated August 31 2023
Version2 of the code using pyramiding, up to 2 contracts.
Minor error in report. Max 2 contracts are used, not 1.
This report using pyramiding will not get updated, as the update process for pyramiding reports can't be automated.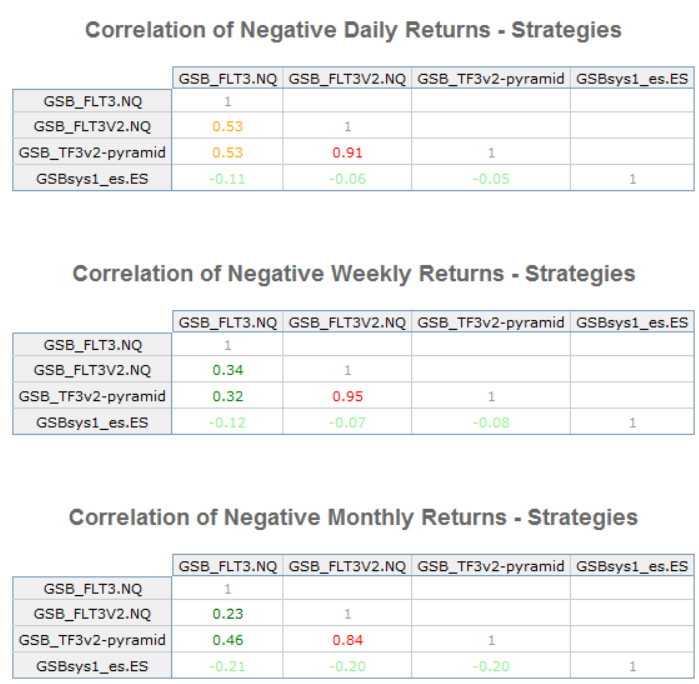 DISCLAIMER
HYPOTHETICAL PERFORMANCE RESULTS HAVE MANY INHERENT LIMITATIONS, SOME OF WHICH ARE DESCRIBED BELOW. NO REPRESENTATION IS BEING MADE THAT ANY ACCOUNT WILL OR IS LIKELY TO ACHIEVE PROFITS OR LOSSES SIMILAR TO THOSE SHOWN. IN FACT, THERE ARE FREQUENTLY SHARP DIFFERENCES BETWEEN HYPOTHETICAL PERFORMANCE RESULTS AND THE ACTUAL RESULTS SUBSEQUENTLY ACHIEVED BY ANY PARTICULAR TRADING PROGRAM.
ONE OF THE LIMITATIONS OF HYPOTHETICAL PERFORMANCE RESULTS IS THAT THEY ARE GENERALLY PREPARED WITH THE BENEFIT OF HINDSIGHT. IN ADDITION, HYPOTHETICAL TRADING DOES NOT INVOLVE FINANCIAL RISK, AND NO HYPOTHETICAL TRADING RECORD CAN COMPLETELY ACCOUNT FOR THE IMPACT OF FINANCIAL RISK IN ACTUAL TRADING. FOR EXAMPLE, THE ABILITY TO WITHSTAND LOSSES OR TO ADHERE TO A PARTICULAR TRADING PROGRAM IN SPITE OF TRADING LOSSES ARE MATERIAL POINTS WHICH CAN ALSO ADVERSELY AFFECT ACTUAL TRADING RESULTS. THERE ARE NUMEROUS OTHER FACTORS RELATED TO THE MARKETS IN GENERAL OR TO THE IMPLEMENTATION OF ANY SPECIFIC TRADING PROGRAM WHICH CANNOT BE FULLY ACCOUNTED FOR IN THE PREPARATION OF HYPOTHETICAL PERFORMANCE RESULTS AND ALL OF WHICH CAN ADVERSELY AFFECT ACTUAL TRADING RESULTS.