GSBsys21ES
This is a day trading system with very low correlation to GSBsys1ES
This is a standard GSB type of system that has additional pattern filters added.
Out of sample period is February 24 2021
On February 18 2022 an additional pattern filter used in other GSB systems was added.
Real time results shown are my real fills for the original version 1 (Feb 2021 system), NOT the version2 Feb 2022 system.
The only reason I didn't trade the version 2 system, is I forgot to update my code on my trading server.
July 2022 update.
Version 3 released.
Changes are as follows.
i) Removal of all of version2 extra filters.
ii) Add one simple and common filter.
iii) Add one simple and unusual filter.
iv) Change one parameter (not a critical one)
Upgrade price from version2 will be $200. Paypal link not done yet, but you can use any $200 Paypal link to get the upgrade.
Purchase price of version 3 for users who are no upgrading is $499 or $599 for version 1,2,3


Correlation figures to the only other day trading system for sale are excellent, but note that the 3 variants of GSBsys21.xES are highly correlated.
Correlation map with more systems can be found here.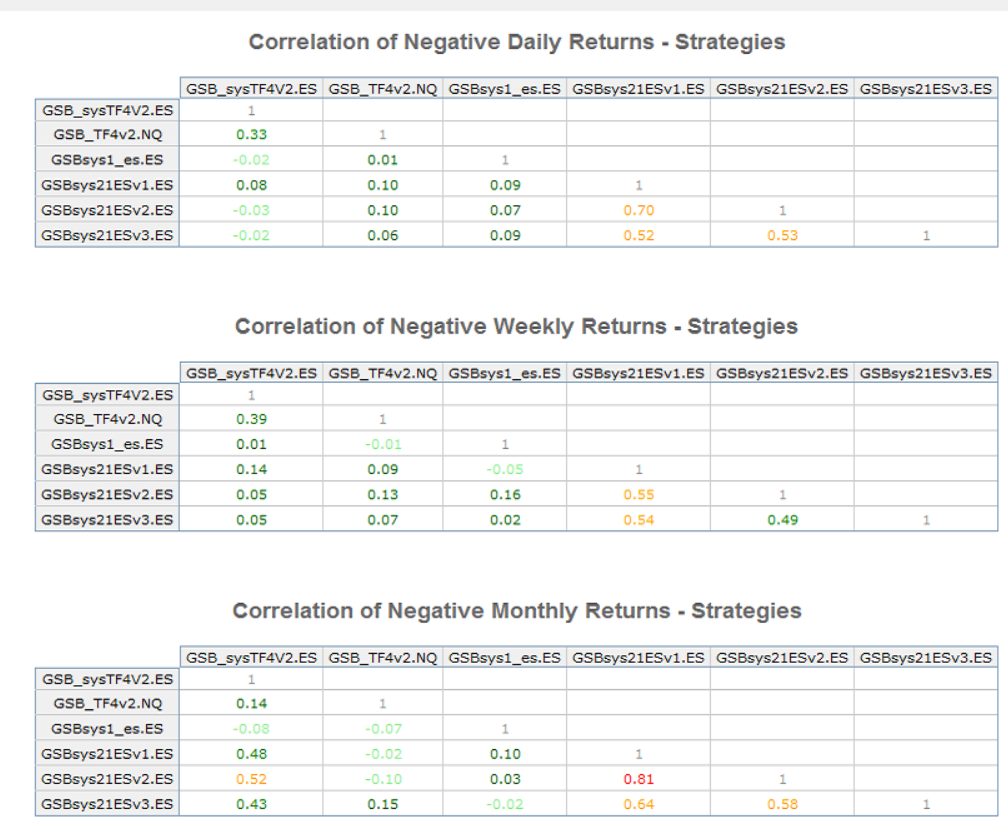 Please send in the NDA and make payment.
Payment can be made by bank transfer to USA, EUR, AUD or NZD bank account.
FX rates can be the cash rate shown on Tradestation. This saves all parties Paypal's excessive fees.
Updated November 30 2022
Click on fields for more details.
Version 3
Version 2
Version 1
DISCLAIMER
HYPOTHETICAL PERFORMANCE RESULTS HAVE MANY INHERENT LIMITATIONS, SOME OF WHICH ARE DESCRIBED BELOW. NO REPRESENTATION IS BEING MADE THAT ANY ACCOUNT WILL OR IS LIKELY TO ACHIEVE PROFITS OR LOSSES SIMILAR TO THOSE SHOWN. IN FACT, THERE ARE FREQUENTLY SHARP DIFFERENCES BETWEEN HYPOTHETICAL PERFORMANCE RESULTS AND THE ACTUAL RESULTS SUBSEQUENTLY ACHIEVED BY ANY PARTICULAR TRADING PROGRAM.
ONE OF THE LIMITATIONS OF HYPOTHETICAL PERFORMANCE RESULTS IS THAT THEY ARE GENERALLY PREPARED WITH THE BENEFIT OF HINDSIGHT. IN ADDITION, HYPOTHETICAL TRADING DOES NOT INVOLVE FINANCIAL RISK, AND NO HYPOTHETICAL TRADING RECORD CAN COMPLETELY ACCOUNT FOR THE IMPACT OF FINANCIAL RISK IN ACTUAL TRADING. FOR EXAMPLE, THE ABILITY TO WITHSTAND LOSSES OR TO ADHERE TO A PARTICULAR TRADING PROGRAM IN SPITE OF TRADING LOSSES ARE MATERIAL POINTS WHICH CAN ALSO ADVERSELY AFFECT ACTUAL TRADING RESULTS. THERE ARE NUMEROUS OTHER FACTORS RELATED TO THE MARKETS IN GENERAL OR TO THE IMPLEMENTATION OF ANY SPECIFIC TRADING PROGRAM WHICH CANNOT BE FULLY ACCOUNTED FOR IN THE PREPARATION OF HYPOTHETICAL PERFORMANCE RESULTS AND ALL OF WHICH CAN ADVERSELY AFFECT ACTUAL TRADING RESULTS.